Infographic Sources for Why Forests? Why Now?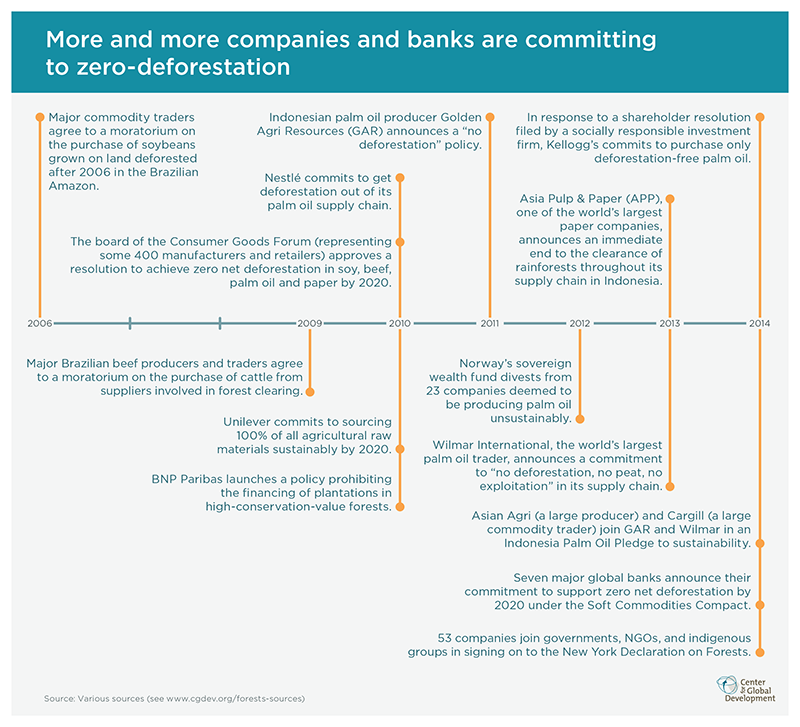 Selected "no deforestation" commitments by supply chain actors and financiers
2006 – Major commodity traders agree to a moratorium on the purchase of soybeans grown on land deforested after 2006 in the Brazilian Amazon.[1]
2009 – Major Brazilian beef producers and traders agree to a moratorium on the purchase of cattle from suppliers involved in forest clearing.[2]
2010 – Nestlé commits to get deforestation out of its palm oil supply chain.[3]
2010 – The board of the Consumer Goods Forum (representing some 400 manufacturers and retailers) approves a resolution to achieve zero net deforestation in soy, beef, palm oil and paper by 2020.[4]
2010 – Unilever commits to sourcing 100% of all agricultural raw materials sustainably by 2020.[5]
2010 – BNP Paribas launches a policy prohibiting the financing of plantations in high-conservation-value forests.[6]
2011 – Indonesian palm oil producer Golden Agri Resources (GAR) announces a "no deforestation" policy.[7]
2012 – Norway's sovereign wealth fund divests from 23 companies deemed to be producing palm oil unsustainably.[8]
2013 - Asia Pulp & Paper (APP), one of the world's largest paper companies, announces an immediate end to the clearance of rainforests throughout its supply chain in Indonesia.[9]
2013 – Wilmar International, the world's largest palm oil trader, announces a commitment to "no deforestation, no peat, no exploitation" in its supply chain.[10]
2014 – In response to a shareholder resolution filed by a socially responsible investment firm, Kellogg's commits to purchase only deforestation-free palm oil.[11]
2014 – Asian Agri (a large producer) and Cargill (a large commodity trader) join GAR and Wilmar in an Indonesia Palm Oil Pledge to sustainability.[12]
2014 – Seven major global banks announce their commitment to support zero net deforestation by 2020 under the Soft Commodities Compact.[13]
2014 – 53 companies join governments, NGOs, and indigenous groups in signing on to the New York Declaration on Forests.[14]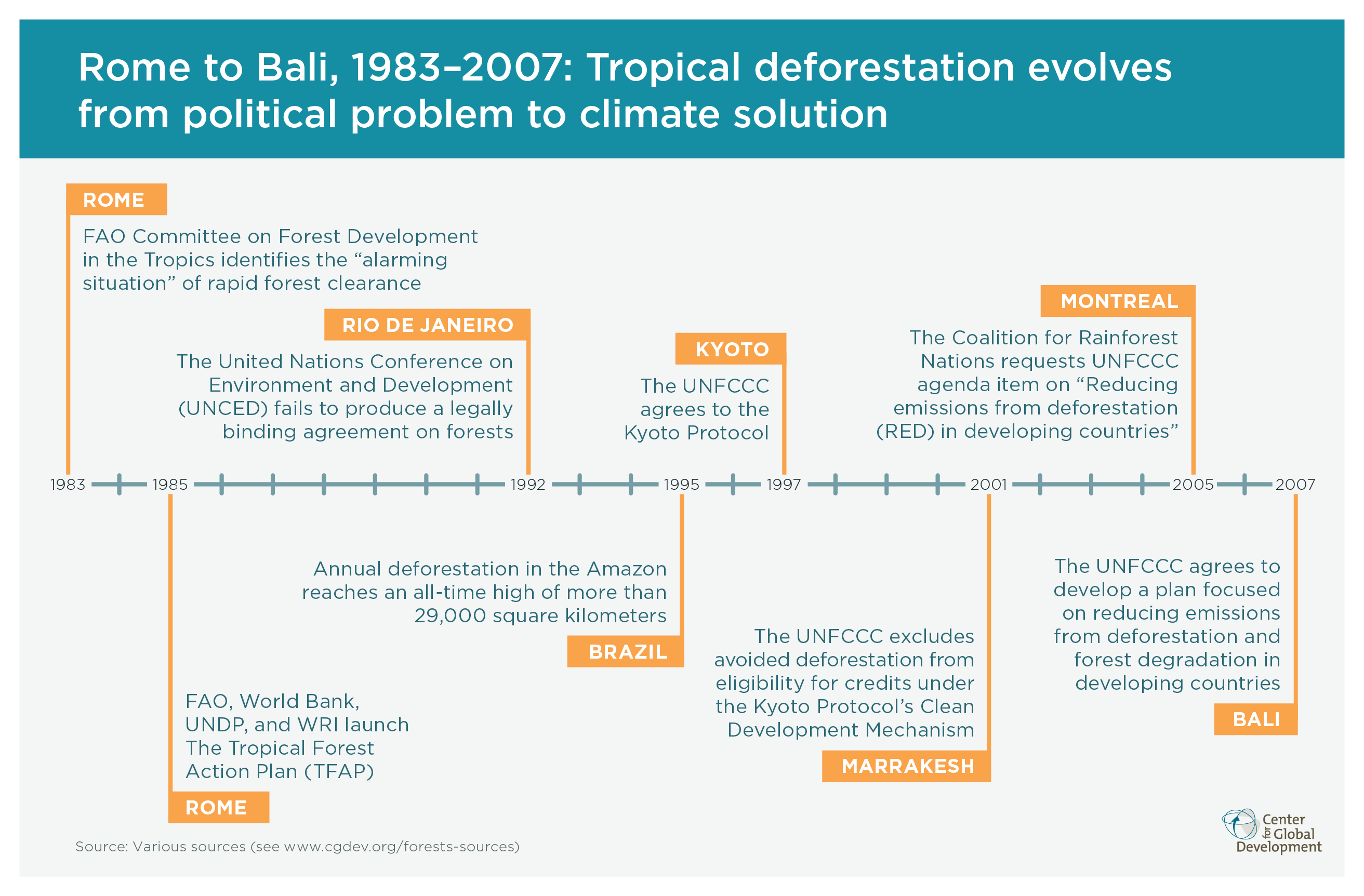 Rome to Bali: Timeline of international events 1983 – 2007
1983 - Rome: FAO Committee on Forest Development in the Tropics identifies the "alarming situation" of rapid forest clearance[15]
1985- Rome: FAO, World Bank, UNDP, and WRI launch The Tropical Forest Action Plan (TFAP)[16]
1992 - Rio De Janeiro: The United Nations Conference on Environment and Development (UNCED) fails to produce a legally-binding agreement on forests[17]
1995 - Brazil: Annual deforestation in the Amazon reaches an all-time high of more than 29,000 square kilometers.[18]
1997 - Kyoto: The UNFCCC concludes the Kyoto Protocol[19]
2001 - Marrakesh: The Marrakesh Accord excludes avoided deforestation from eligibility for credits under the Clean Development Mechanism[20]
2005 - Montreal: The Coalition for Rainforest Nations requests agenda item on 'Reducing emissions from deforestation [RED] in developing countries" at the COP 11[21]
2007 - Bali: COP 13 agrees to develop a plan focused on "policy approaches and positives incentives on issues related to reducing emissions from deforestation and forest degradation in developing countries."[22]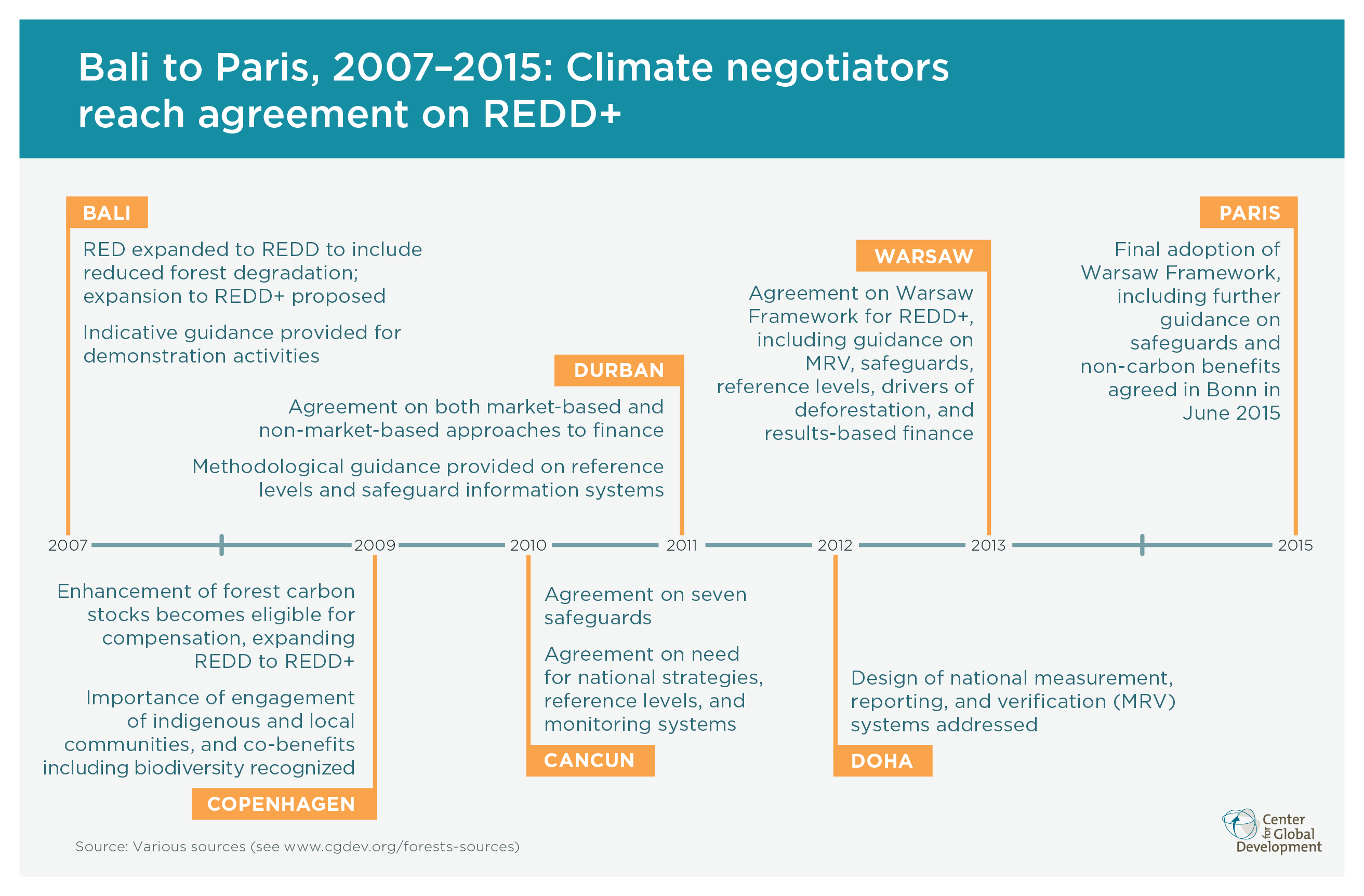 Bali to Warsaw: REDD+ negotiations 2007-2015
2007 - Bali: COP13 expands scope of RED to REDD to include avoided forest degradation[23]
2009 - Copenhagen: COP15 recognizes need for engagement of indigenous peoples and local communities and the importance of co-benefits, including biodiversity [24]
2010 - Cancun: COP16 agrees on seven safeguards, and that countries participating in REDD+ should develop national strategies or action plans, forest reference emission levels, and systems for forest monitoring and providing information on how safeguards are being addressed [25]
2011 - Durban: COP17 finalizes decision to expand REDD to REDD+ to include enhance forest carbon stocks[26]
2012 - Doha: COP18 addresses the design of national measurement, reporting and verification (MRV) systems [27]
2013 - Warsaw: COP19 finalizes the "Warsaw Framework for REDD+", including guidance on MRV, safeguards, forest reference emission levels, and drivers of deforestation[28]
2015 - Final adoption of Warsaw Framework, including further guidance on safeguards and non-carbon benefits agreed in Bonn in June 2015. [29]
---