Migration as a Tool for Disaster Recovery
Every year natural disasters take a heavy toll on poor people in the developing world. High-income countries could do more to help, at very low cost, by admitting a limited number of the victims of natural disasters within their borders.
Read the report: Shared Harvest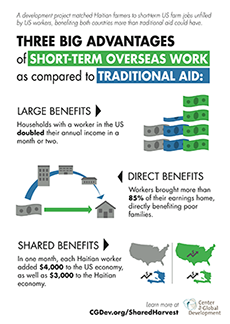 The Center for Global Development is studying ways in which governments can use international migration to assist recovery after natural disasters.
Nearly all high-income countries have a systematic process through which they can assist people fleeing war, political violence, or persecution in their homelands—these people are classified as "refugees" under international law, have certain rights guaranteed, and are resettled in limited numbers. However, high-income countries lack any such mechanism to assist whose who migrate due to natural disasters, although such disasters can be more destructive than many wars. This initiative seeks to identify and foster legal options to utilize the power of migration as one component of post-disaster relief efforts in the developing world today.
Led by Michael Clemens, senior fellow at CGD, the "Migration as a Tool for Disaster Recovery Initiative" currently focuses on Haiti as a case study. We are showing how the U.S. government could assist Haiti's recovery from the catastrophic 2010 earthquake, by fostering small international movements of people with outsize economic benefits.
Haiti: Successes to Date
After the earthquake, CGD conducted the first exhaustive review of how the U.S. government could incorporate migration policy into its portfolio of post-disaster assistance.
This research revealed that a simple policy change by the Department of Homeland Security could add Haiti to the list of nationalities eligible to participate in the U.S.'s largest temporary work visa program, the "H-2" visa—opening the door for Haitians to increase their earning potential by 1,500–2,000% through temporary employment in seasonal low-skill jobs in the US. (Learn more about CGD research findings here).
CGD undertook a targeted outreach campaign with the goal of instigating this change by connecting with Members of Congress and officials at the State Department, Department of Homeland Security, and elsewhere within the Obama Administration. In January 2012, these efforts were rewarded: The Secretary of Homeland Security added Haiti to the list of countries eligible for the H-2 visa. (Learn more about CGD outreach and the H-2A/H-2B policy change here).
Temporary Worker Visas: From Policy Change to New Immigration
CGD's efforts are now concentrated on catalyzing use of the new visa opportunity and studying its impacts. We are spreading the word about Haiti's access to the H-2 visa by reaching out to stakeholders, including U.S. employers, labor agents/recruiters, and Haitian government officials. As part of this effort, in June 2012 CGD staff traveled to Port-au-Prince, Haiti. There they met with the US Embassy, Haiti's Minister of Social Affairs and Labor, Haiti's National Office on Migration, the International Organization for Migration (IOM), nongovernmental actors, local recruiters and others, all of whom have a critical role to play in the oversight and execution of the program. (Learn more about the CGD trip to Haiti and outreach efforts to date here).
Now CGD is continuing to work to inform US employers about the opportunity to hire seasonal low-skill workers from Haiti, and provide them with the resources needed to do so. (Learn more about CGD work with Employers here).
CGD's Role
CGD is not a governmental organization and does not receive funds to implement programs on behalf of any government. CGD cannot and does not seek to influence which individuals the U.S. permits to enter the country and will not be directly involved in any recruitment efforts. CGD's engagement with the private sector focuses on encouraging employers to support Haiti by hiring Haitians. CGD does not endorse any particular employer or recruiter, but seeks to share with all U.S. employers who use this program information about how to access Haitian workers. CGD launched the initiative with major support from the John D. and Catherine T. MacArthur Foundation.