Oil to Cash Update - February 2017
February 2017
Dear Friends,
Aspects of the Oil-to-Cash model are being tested and tried around the globe. Momentum is growing in two of the largest countries, India and Nigeria. An epic report from the Indian government highlights the potential for both a universal basic income (UBI) and a Mining-to-Cash option in the state of Goa. Nigeria, which is struggling to reform fuel subsidies and to deliver basic services in the face of mounting macroeconomic pressure, has also begun experimenting with monthly cash transfers. Both countries will be closely watched. More details below, plus updates from Alaska (lawsuits and acrimonious politics!), rethinking Iran's experience with Subsidies-to-Cash, a new analysis of energy subsidy reform from our friends at CFR, and more.
As always, we welcome any questions or suggestions at oil2cash@cgdev.org.
Best wishes,
Todd Moss, Senior Fellow
To receive updates about Oil to Cash from CGD, sign up here!
India's Economic Survey (Highlight 1): Universal Basic Income (UBI)?
India's Ministry of Finance recently released the highly anticipated annual Economic Survey. This year it's a whopper. (Full disclosure: the lead author is chief economic advisor Arvind Subramanian, a friend and senior fellow on leave from CGD). In addition to the usual analysis of the Indian economy, there are special chapters on demonetization, low-skill manufacturing, fertility, and more.
Of special note for Oil-to-Cash watchers is Chapter 9 on the potential of replacing the country's complex system of subsidies and targeted in-kind benefits to the poor with a guaranteed minimum income to all citizens through cash deposited directly into a bank account. The current system is plagued by misallocation, leakages, and corruption. The Survey thoughtfully explores many of the issues. One highlight: A UBI costing just 1.5% of GDP would cut poverty in half.
India's Economic Survey (Highlight 2): Mining-to-Cash in Goa?
The Survey also discusses potential effects of a large-scale fiscal transfer on improved resource governance in India and as a boost to citizen engagement. In particular, the chapter gives a special mention (page 297) to the Goa Iron Ore Permanent Fund created by a 2012 judgement by the Supreme Court of India. A group of citizens, the Goenchi Mati Movement, have fought for the expansion of the fund and the distribution of its revenue as a cash payment to Goans. The chapter acknowledges this approach as an option for India's (relatively few) resource rich states.
Cash Transfers in Nigeria:
As part of a raft of new social welfare programs, the Nigerian government began paying N5,000 (~$15) a month to the poorest citizens in nine states. Although this new program is neither a direct swap for fuel subsidy reductions nor directly connected to oil revenues, it is the largest cash transfer program in Africa's largest economy. The government will be working with the World Bank on targeting, payment systems, and evaluation.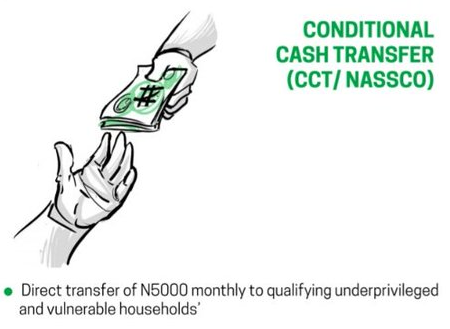 Source: www.nationalplanning.gov.ng
Other Updates
Special note:  CGD has launched a new page, "Digital Dividends: Identity, Payments, and Subsidy Reform," which will contain work on cash transfers and fuel subsidies facilitated by digital payments and new identification systems. Check it out, here.