India's Economic Survey (Highlight 2): Mining-to-Cash in Goa?
The Survey also discusses potential effects of a large-scale fiscal transfer on improved resource governance in India and as a boost to citizen engagement. In particular, the chapter gives a special mention (page 297) to the Goa Iron Ore Permanent Fund created by a 2012 judgement by the Supreme Court of India. A group of citizens, the Goenchi Mati Movement, have fought for the expansion of the fund and the distribution of its revenue as a cash payment to Goans. The chapter acknowledges this approach as an option for India's (relatively few) resource rich states.
Cash Transfers in Nigeria:
As part of a raft of new social welfare programs, the Nigerian government began paying N5,000 (~$15) a month to the poorest citizens in nine states. Although this new program is neither a direct swap for fuel subsidy reductions nor directly connected to oil revenues, it is the largest cash transfer program in Africa's largest economy. The government will be working with the World Bank on targeting, payment systems, and evaluation.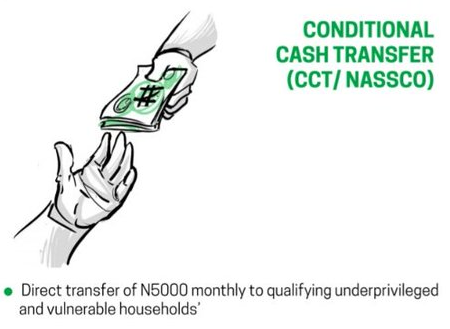 Source: www.nationalplanning.gov.ng
Other Updates
Special note:  CGD has launched a new page, "Digital Dividends: Identity, Payments, and Subsidy Reform," which will contain work on cash transfers and fuel subsidies facilitated by digital payments and new identification systems. Check it out, here.